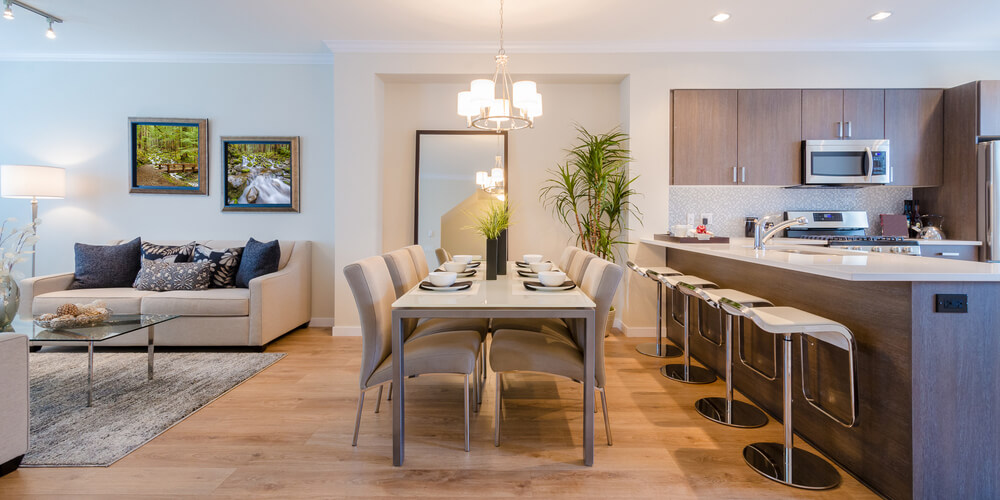 Skyline Construction and Remodeling is a Los Angeles-based contractor specializing in custom home remodeling services in Woodland Hills, LA, and all surrounding areas.
Having completed over 6,000 remodeling projects, we pride ourselves on our dedication, hard work, craftsmanship, and remodeling expertise. We understand that each project is unique, and we work with you every step of the way to create your dream home.
Our custom home remodeling includes:
Whole House Remodel
Interior Design 
Exterior Renovations 
Smart Home Integration
Accessibility Modifications 
Energy-Efficient Upgrades 
Structural Improvements
We manage every aspect of the project with our skilled team of contractors, designers, and planners to ensure a smooth, transparent, and beautiful remodel.
If you still have questions, check out our FAQ below, fill out our contact form, or call us today!
How much does it cost for our home remodeling service in Woodland Hills, Los Angeles, and surrounding areas?
Renovation costs are usually dependent on the type and scale of the custom remodeling service in Woodland Hills, Los Angeles, and surrounding areas.
The cost of a partial home remodel will be much less than a full-scale home remodel. In addition, the complexity of the remodel must be considered.
In order to have a more accurate estimate of the cost, you will need to meet with one of our crew members at home to review the project and discuss the scope of work. Feel free to call us at (888) 216-1885 today and schedule a visit.
Will I need a permit for the custom home remodel to be done?
You most definitely will! Permits are an important part of home remodeling, and it is always necessary to acquire the proper permits before you begin to alter your home. Permits are required for various stages of the construction process.
For instance, there are different permits that are required if your project includes any changes to electrical systems or plumbing.
Skyline Construction will take care of all permits required for your remodeling project. All services will be completed according to local city ordinances and regulations.
How long does it take to acquire a permit for remodeling in Los Angeles and Woodland Hills?
It can take up to two weeks to acquire the proper permits. However, these permits cover every aspect of your home remodeling service in Woodland Hills and Los Angeles.
When a qualified contractor such as Skyline Construction is in charge of pulling the permits for a remodel, the process is handled efficiently and expediently. We encourage you to seek our help before attempting to apply for or receive permits on your own.
What steps should homeowners take to prepare for a house renovation?
Getting prepared for a house renovation process can be an exciting task if you handle it the right way! The first thing that you need to identify is the type of renovation or construction job you want.
You must then figure out how this works with your budget. Once you have done this, you can go over the numbers and designs with our crew members to see the options.
Skyline Construction will then let you know which permits have to be acquired, acquire the necessary permits for you, and work out a timeline for the project with you.
Once we have set a date to begin the project, homeowners just have to make sure that their homes are ready for the process. This simply means covering up personal belongings so that they are not damaged during the remodel.
Will I have to move out during remodeling?
This will be determined by the scope of your renovation. For most partial remodels, the homeowner will not have to move out of the home for the duration of the process.  It helps to have the homeowner close by to keep the relay of information smooth and efficient.
However, if you are undergoing a full-scale home remodel, you might want to consider making temporary living arrangements.
Even if you don't need to move out, you should still consider the impact of certain remodeling projects.
If you are renovating a bathroom or kitchen, it may be wise to ensure you have alternate options for daily self-care, hygiene, and cooking.
If you choose to remodel multiple rooms at the same time, we may be able to schedule each job successively to ensure you always have adequate access. Call us at (888) 216-1885 for more information.
How long will the remodeling service take?
The length of the construction process all depends on the type of home remodel you are looking for. It also depends on some other minor factors, including fixture choices.
If you have a top-to-bottom remodel, it can take several weeks to several months to complete the project. On the other hand, if the project is relatively simple, it can be done in no time at all.
Before we start your project, we'll do our best to provide you with a rough time frame so you know what to expect. If we need to extend the time frame, we'll let you know immediately and explain why.
Issues beyond our control, such as bad weather or rare permit holdups, are the most common causes for extra time needs.
How do I choose the right contractor to remodel my home?
This is the most important aspect of the remodeling process for a home. So, it is important for homeowners to understand this. Ideally, you should choose a contractor that understands your needs.
You want a company that you believe can help you bring your ideas to life. It is also important to make sure you choose a licensed contractor. These are the companies that know how to go about their job the right way.
This means that they will know the proper channels to follow when pulling permits. They will understand how to accommodate you and your family's needs during the entire custom remodeling service. It's also important your contractor understands the different needs and processes of your location, for there are different necessities for remodeling services in Woodland Hills, Los Angeles, Tarzana, Culver City, Oak Park, Encino, Sherman Oaks, Northridge and all other surrounding areas.
If your contractor is not willing to work around your schedule, or if they leave you to acquire all the necessary documentation on your own, then that is a red flag you should not ignore. Essentially, you should choose a company that you believe you can trust and one with a great portfolio of work and online reviews, such as Skyline Construction.
Can I be a part of the home remodeling process?
Yes! Even if you aren't actively working on your remodel yourself, your input, feedback, and responses are valuable to us. We encourage you to check in or give your feedback as often as you feel comfortable. You should never feel obligated, but your input is always welcome.
Communication is important during the whole remodeling process. Without it, there is an increased chance that money and time will be wasted. Ideally, you should take the time to meet with our crew members. During this part of the process, you can discuss ideas, budgets, payment schedules, and more with our licensed crew.