Kitchen Remodeling Contractor in Los Angeles and Woodland Hills
Skyline Construction and Remodeling offers high-quality kitchen remodeling services in Los Angeles, Woodland Hills, and all surrounding areas. As a Kitchen Remodeling Contractor, our skilled planners, designers, and architects ensure every step of the remodeling process is handled to perfection.
The kitchen is among the most important rooms of the house. Our team of expert kitchen remodelers will create the perfect kitchen for you. With our attention to detail and commitment to customer satisfaction, you can trust us to deliver exceptional results that will transform your kitchen into a functional and beautiful space.
Whether you're looking to update the layout, install new countertops and cabinets, or add modern appliances, our skilled team will work closely with you to bring your vision to life.
Still have questions about our kitchen remodeling services in Woodland Hills or Los Angeles? Check out our FAQ below!
Will someone be able to help me with the designs for my kitchen remodel?
We sure will. We can offer potential kitchen remodeling ideas because we have the industry knowledge and professional design insights to support you through tough decision-making.
The process begins with the planning stage, where we help our clients visualize their dream kitchen, then move on to budgeting for the remodel. Once the design is finalized, our skilled team will work closely with you to bring your vision to life. 
We understand that every kitchen remodel is unique, and we are committed to providing personalized solutions that meet your specific needs and preferences. Our goal is to ensure that you are completely satisfied with the end result of your kitchen remodeling project.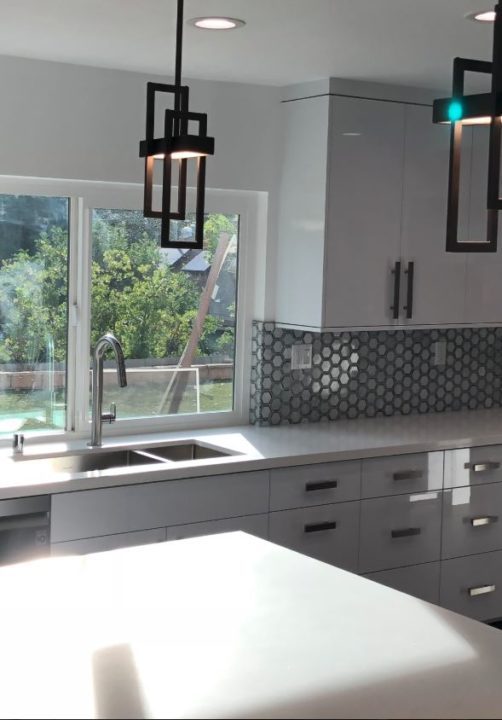 How do I prepare my kitchen for the remodeling process?
There is nothing for you to worry about. Our team manages all aspects of preparation for kitchen remodeling. We will handle tasks such as clearing out the cabinets and countertops, disconnecting appliances, and protecting any furniture or fixtures that will remain in the kitchen during the remodel.
After you have decided on the design specifics of your kitchen remodel, all you have to do is leave the work to the professionals. Rest assured, your kitchen is in the care of experienced contractors who specialize in remodeling.
How much will it cost for kitchen remodeling in Woodland Hills, Los Angeles, and surrounding areas?
A kitchen remodeling project in Los Angeles and Southern California can be as simple as refurnishing the cabinets or painting the kitchen walls. In most cases, our clients desire to remodel the entire kitchen. Hence, giving an accurate estimate upfront is not possible. Contact us now or call (888) 216-1885 to book a visit.
Is it necessary to obtain a permit to remodel my kitchen?
Kitchen remodeling in Woodland Hills, Los Angeles, and surrounding areas always requires a permit. However, this is not something that the customer needs to deal with.
We take care of all of the paperwork involved in bringing your dream kitchen to life. Waiting on permits can take time, but these factors will be anticipated in project proposals, along with estimated pricing. We will inform you of the details and keep you updated on the project work on a timely basis.
Do you take care of plumbing?
Yes. If the project requires plumbing additions or repairs, we have all of the necessary personnel to make those adjustments. We will not leave your new bathroom without all the necessary running water and water pressure.
Will I be able to use the kitchen and appliances during the remodeling process?
For safety as well as practical reasons, a full kitchen remodel means that the kitchen is not accessible during the remodeling process. Issues with dust complicate the use of the kitchen space for food preparation and eating. After hiring a kitchen remodeling contractor, your kitchen becomes a construction site. We will seal the area around the kitchen, so other parts of your home will be minimally affected.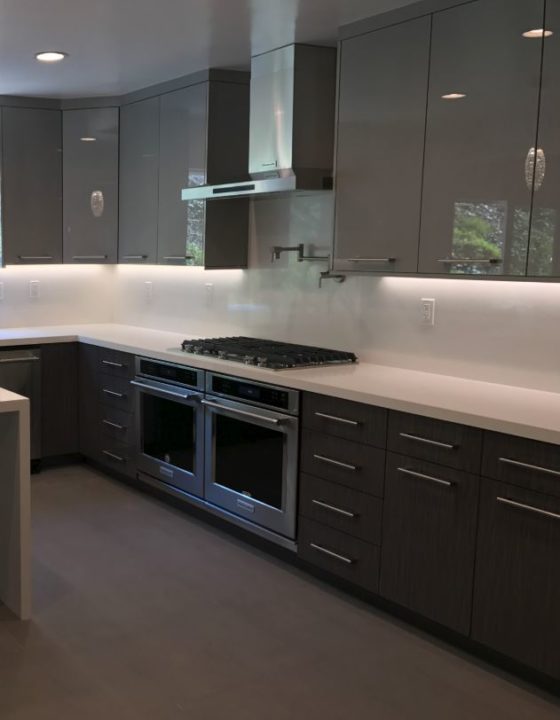 However, that doesn't mean you can't cook at all. Food can be heated on grills, in microwaves, or even on hot plates, and it can help stage a temporary kitchenette in another room while the remodel is going on. Sinks in other rooms can also be used for washing.
In some cases, clients may simply find it more comfortable to remain outside of the home for the duration of the remodeling project. Skyline Construction will work with you to make sure the remodeling process goes as smoothly as possible, regardless of your location. We'll do our best to work with you to come up with a low-impact schedule to get you back home quickly.
Who is in charge of cleaning up after the kitchen remodeling project?
By hiring Skyline Construction as your kitchen remodeling contractor, you do not have to worry about the remodeling work. Thanks to the level of professional excellence we execute every job with, cleanup is fast, efficient, and leaves your new kitchen spotless.
Through meticulous steps during the construction preparation process, our team contained any and all mess in the kitchen.
Can I choose any fixtures I want for the kitchen?
Yes, you may choose any fixtures that you would like for your remodeling project. Your imagination and your budget are the only possible limitations. Whether it is something from a catalog or a product that needs to be custom made, we can get it and take care of installation.
It is best to make these choices before construction begins so that ordering or fabrication scheduling does not hold up the rest of the remodeling schedule. We can help with decision-making as well as generate ideas that will fit your new kitchen plan.
How long does kitchen remodeling take?
The average time it takes for a kitchen remodel is three to five weeks, not including time for planning and design. However, every kitchen remodel is unique because every customer is different.
Your project could take a shorter amount of time or longer, depending on the complexity of the required work. The time it takes for design varies more due to the time it will take to gather specific fixtures and even decide on a final design.
Bear in mind that more advanced kitchen remodels may take longer. Switching out faucets and cupboard doors may take just a day or two, while removing and replacing a floor and all cupboards typically takes much longer. Regardless of your needs, we'll always keep you informed and involved.
Does it matter how old my bathroom is?
No, the age of your bathroom does not necessarily determine the length of time it will take to remodel. The duration of the project will primarily depend on the extent of the renovations you wish to undertake and any unforeseen issues that may arise during the process.  
We provide kitchen remodel services to the Los Angeles and Ventura counties. Call us today at (888) 216-1885 for a free quote.