Window and Door Installation in Woodland Hills and Los Angeles
Here at Skyline Construction and Remodeling, our team is supported by an operations center that ensures the unblemished, on-time delivery and installation of your beautiful new windows and doors. You may rest assured that your investment will be a success. We operate with the utmost integrity and care, and we offer the overall best value in professional window and door installation in Woodland Hills.
Our diligent, exceptional service will make it simple for you to enjoy the process of adding value to and protecting your home. From a large product selection to a final walk-through upon completion, our expert crew members will provide you with an exceptional experience. We vow to keep you completely informed every step of the way.
Every window and door installation project is assigned to a project manager to see it through to completion, on schedule, and to your satisfaction. Expect your project manager to be an experienced professional with a firm command of the details of your project.
Replacing windows and doors requires a lot of skill sets. Unlike other companies, we are fully licensed and deploy a team of niche specialists for every aspect of the remodel.
Our standard service is inclusive of skilled installers and finishing specialists to professionally remodel dry wall, stucco, and trim.
Why should I install new windows and doors?
Installing new windows and doors has dramatic benefits for both your wallet and your home. The biggest benefit of window and door installation in Woodland Hills and Los Angeles is that it simply makes your home look fresher – like a new coat of paint, they can instantly lift your decor indoors and out.
If your windows are particularly old or in disrepair, they may be hampering your HVAC system's quality by leaking cold and warm air in and out at the wrong times. Newer windows and doors use advanced technology to seal off your home from the elements. When it's cold, you stay warmer; when it's hot, you stay cooler. In California's hot summers, that can be a real blessing!
What do I need to do before window and door installation in Woodland Hills and Los Angeles?
You already took the first step – visiting our website. The next step is to get in touch with us directly about your window and door installation in Woodland Hills and Los Angeles.
When you call, we'll discuss your goals and desired results and then assess your home. Then, we create a custom estimate that includes labor, materials, and any permit fees before we start.
Skyline Construction and Remodeling creates every estimate with the client's budget and installation desires in mind.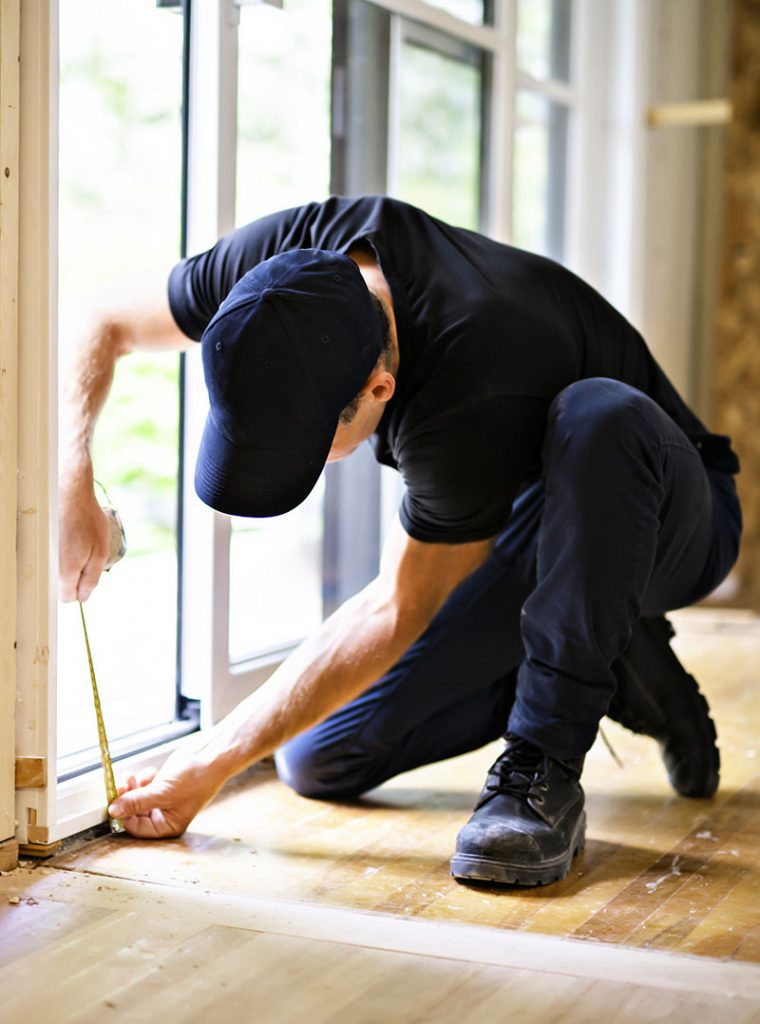 Do I need a permit to replace or install new windows and doors?
Maybe. Each home renovation project is different. Depending on exactly where you live and how much work you need, you may or may not require a permit for window and door installation in Woodland Hills or surrounding areas.
The simpler the job, the less likely we will need a permit. Highly complex or extensive jobs (including all-window replacement) will usually require a permit as per state, town, or city laws.
The best part about working with Skyline Construction is that there's no permit stress. We handle the application and acquisition of permits for you from start to finish.
All we need to know is what you need done; the rest is up to us. Our experts have experience navigating the system to ensure you have the right permissions for every project.
Will I be able to stay in my home during window and door installation in Woodland Hills and Los Angeles?
In most cases, yes. However, bear in mind that window and door replacements usually require that your home be open to the elements for at least a portion of the day. If you have young children, pets, or anyone who struggles with chronic illness in the home, this exposure may be undesirable.
In extremely hot or cold weather, you may opt to spend time in another location simply for your own comfort. Whenever possible, we'll limit the amount of time you need to spend away. If you prefer to remain at home no matter what, we'll work with you to make the experience as least impactful as possible.
How should I prepare for window and door replacements?
The best thing you can do to prepare for window and door installation in Woodland Hills is to organize the area around any work points. Move furniture away to create clearance for workers at each door and window being replaced. If possible, tuck items like toys and belongings into a corner or put them away to make room. This makes it easier and safer for our crew to work.
We provide window and door installation and remodeling in Los Angeles and Ventura counties. Please contact us today at (888) 216-1885 for a free quote.