A master bathroom is an important room in your home–it's where you prepare for the day, relax in a hot shower or bath, and wind down as you're getting ready for bedtime. Thus, most of your family will spend a great deal of time in this room. So you want it to be a comfortable, cozy place–but also one that is cost-effective, well-organized, and of course, visually appealing. If you find yourself disappointed with your current bathroom, it may be time to consider a master bathroom remodel.
If your master bathroom is looking shabby, you're probably in the market for bathroom remodeling services. However, most people don't have the thousands of dollars to completely overhaul an entire room of the house. Some experts estimate that this kind of master bathroom remodel can take an upwards of $10,000 or more. Thankfully, there is a better way: remodeling your bathroom on a budget.
Remodeling on a budget doesn't mean you won't be able to achieve the look and functionality you desire. It just means you'll be more conscious about costs and more creative in how you make the changes you're wanting. If you are working with the right contractor, you can create your dream master bathroom, on any budget. Consider these six steps to an affordable master bathroom remodel.
6 Ways to Budget for a Master Bathroom Remodel
Budgeting for your master bathroom remodel will be the most difficult part of this process. From there, your remodeling contractor can help to bring your dream to life.
Consider these six ways to save money on your bathroom remodeling budget:
Wall Coverings
Painting Services
Use Tile Selectively
Cost-Effective Alternatives to Flooring
Consider Refinishing Instead of Buying New Fixtures
DIY
These are only six ways you can save on remodeling your bathroom, and we will go into detail about each one. Creating your ultimate master bathroom can be a reality.
1. Alternative Wall Coverings
Let's face it: painting takes time, wallpaper is expensive, and bathroom walls can take a beating–from scrapes and dents to moisture in the air from a shower. So the walls in your bathroom will need some attention when you decide to remodel. However, there's no need to spend tons of money on floor-to-ceiling wallpaper. Consider an alternative wall covering like wainscoting. Wainscoting is a material that can be applied to the lower half of a wall, up to 48" and is often used in a white color with a ridged pattern. This is a cheaper option, and can save time and money in repairing imperfections in walls.
However, note that if you have any serious water damage, or evidence of mold and mildew, do not cover these areas with wainscoting. Remove the mold and mildew first, or you could have bigger problems down the road.
2. Consider a Fresh Coat of Paint
Faded paint can make any room look bleak, dirty, and run down. So consider a fresh coat of paint as part of your remodel. Painting your bathroom is affordable and an simple option to bring life into your new bathroom. Though it isn't a lot of area to cover, keep in mind that it may take you a bit longer than other rooms in the house because there are so many areas that will require being taped off.
Similarly, freshen up the caulk and grout in any tile or along the edges of fixtures. It's amazing how restoring these to their original white and getting rid of any dirt or scum that has accumulated can brighten up the entire room.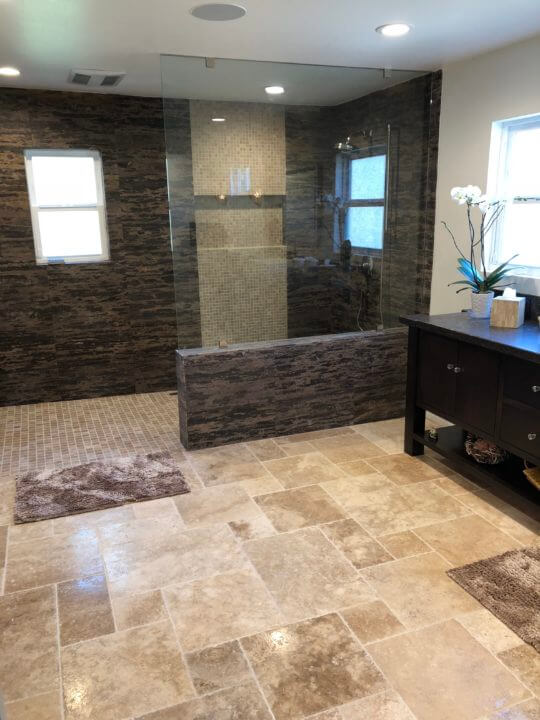 3. Be Selective About Using Tile
When beginning a master bathroom remodel, avoid the temptation to use tile everywhere. This is because tile can be very expensive and you could easily drop much of your budget on this one facet of your bathroom project. Instead, be very selective in how you use it and where you place it in the bathroom. If you really have your heart set on tile, use it wisely. For example, use more expensive tile sparingly and mixed with paint–you could use tile in a single line around the bathroom, surrounded on either side with paint. You could also focus on placing tile on areas that will benefit from it the most, like the bottom floor of a shower.
4. Find Cost-Effective Alternatives
What you really want for your bathroom may be out of your price range–but there's no reason you can't find cost-effective alternatives that will give you the same or a similar look for less. This is especially true when it comes to flooring options. Granite flooring is beautiful and stunning in any bathroom–but it can also be very costly. However, consider vinyl flooring in a pattern that mimics granite instead. This is much cheaper while having the same aesthetic effect, and will be less costly to replace should your flooring every receive any serious damage.
5. Recover or Refinish, Rather than Throw Out
A great way to stay within your budget when working on a master bathroom remodel is to avoid throwing anything out unless it is totally unsalvageable–recover or refinish items that can be reused, and you'll save yourself a lot of time, money, and effort. For example, bathtubs can be refinished with relative ease. Refinishing your bathtub will save you the hassle of having to move it out and move another one in, and will save money on what would've been a very expensive purchase.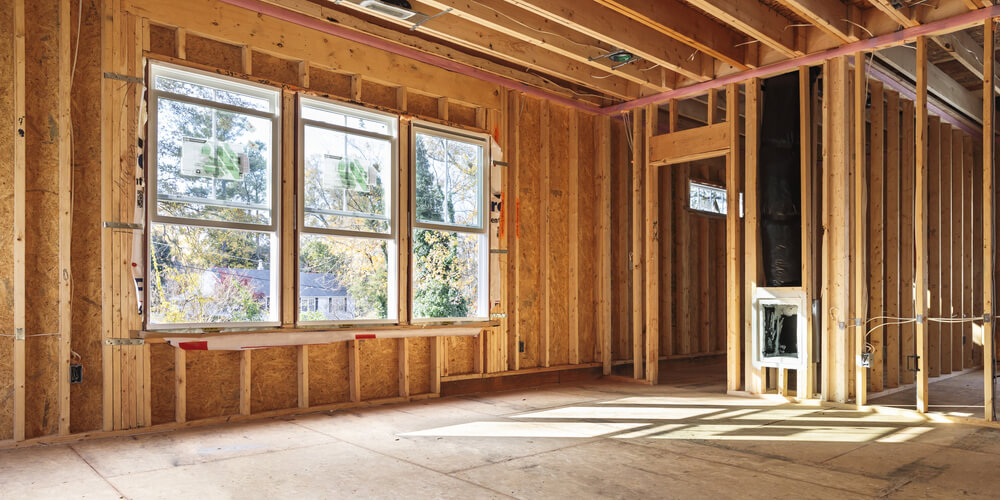 6. Time to DIY
Being open to DIY projects is perhaps the best way to complete a master bathroom remodel on a budget. Manpower can be costly, and it helps if you save money in this area by doing the jobs yourself that you're able to do. For example, you can install a new toilet on your own, if necessary, and directions as to how to refinish a bathtub can be found online as well. It involves a simple process of sanding down the existing finish, clearing the area of any dust and particles, filling in any chips or holes, and applying several layers of paint to the surface of the tub.
Conclusion
Remodeling a bathroom doesn't have to break the bank–contrary to popular belief, you can totally revamp your bathroom while also staying within a budget. Products like alternative wall-coverings such as wainscoting and vinyl flooring that imitates a more expensive option can take your bathroom to visually pleasing lengths without overwhelming your bank account. Applying a fresh coat of paint and refreshing the grout and caulking can also bring new life to a dull bathroom. Doing so takes a bit of creativity and effort on the part of the homeowner, but simple projects like painting, tiling, and refinishing a bathtub are worth it to create a relaxing master bathroom that you can be proud of and enjoy spending time in.